About Us
---
Focus Event Photography is a professional photography and video service which places the emphasis on corporate events such as Conventions and Conferences, Trade shows and Expos, Corporate and Company events, Ribbon cutting and grand openings. We have the experience and also have a diverse portfolio.
Ever since 2013 the company has been professionally providing the business community with premium photography services. With a focus on the aforementioned services, the company is specialized and customer-centered. Abiding by the highest industry policies, Focus Event Photography is licensed as well as insured with an extensive coverage of up to $2,000,000 designated to cover staff, clients, equipment and venues. Furthermore, we strive in delivering the best possible service. With this in mind, unlike any other company out there, we guarantee a quick delivery of up to 7 business days.
About the Founder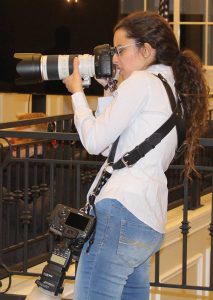 The company was established by Etti Mishal. She is a passionate photographer with a lot of years worth of professional experience. Just like a story from a novel, her passion blossomed while she was traveling around the city, capturing a tremendously special moment. It was right then that she decided that her life's career is going to be photography.
Etti learned Photography and Digital Media in Israel. During that time she worked with famous photographers, being their assistant. However, it wasn't long before she decided it's time to take things into her own hands and started her own business. Her intention was to capture people's special moments, cultivate them and preserve them forever. This is one of the beauties of professional photography – it allows you to re-live certain moments again and again.
Customer-Centered Corporate Services
Focus Event Photography, much like the name itself suggests is centered towards the provision of high-quality event photography. Apart from regular photography services, however, we also offer Green Screen & Photo Booth as well as Videography, Step & Repeat and many more of the kind. If the event is bigger, we offer a second shooter. In fact, it's quite important to rely on additional helping hand, especially if you want to get more coverage.
We use professional Canon 5D Mark IV and Canon 5D Mark III as well as all Canon L Glass lenses. Furthermore, should the circumstances require it, we take advantage of tremendously modern and contemporary cutting edge lighting equipment.
Being experts in what we do, Focus Event Photography is a company that you can trust with your corporate event photo shoot. We make sure to capture the most important moments in order to guarantee that everything is going to be as perfect as it can be. Don't hesitate to contact us for a quote so that we can discuss what is that we can help you with: